Speed Action – Require Authentication
You can now temporarily secure a webpage or certain links with a username and password in order to add an extra layer of security.
This is especially useful in Development Environments where you don't want Search Engines to index your website/page or for /admin sections.
In order to enable the SPEED Authentication rule, head over to the SPEED section.

You can use the example below to create your new rule: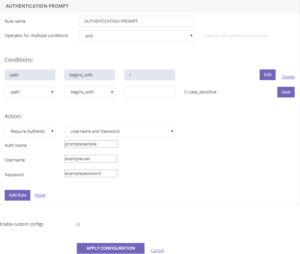 Additional conditions can be added to pop-up the Authentication Prompt to certain areas of your website.

path begin_with /example
After you add the rules and temper the values as needed, proceed to Add Rule & Apply Configuration.
The rule will automatically become Enabled and it will shortly take effect on your server.